With decade high wage growth in the U.K, job wages rising by 3.4% on the year, compensation is a variable the HR professional must be attentive to in order to retain the best talent. For most companies, compensation is the major cost item and so demands careful consideration. Especially in today's healthy job seeker market, getting the salary offering right is crucial for recruiting the best people.
Approaching the complex task of salary review and analysis is made easier using OrgChart Now's built in tools to identify potential areas for improvement.
Salary and Headcount Rollup
Salary and Headcount Rollup totals employee salary cost by the entire organisation as well as by
business unit, division or department. The use of contractor/third party workers rose from 10.1% to 15.8% over the 2005-2015 period in the U.S. and a recent poll showed one in every five employees is a contract worker. The full time employee/contractor split therefore has a significant impact on salary calculations and rollups are commonly broken into employee and contractor totals. Salary and Headcount Rollup can forms the basis of many other reports and calculations, such as Cost to Manage, Performance to Budget and Product Line Profitability.

Average Salary Metric
The Average Salary metric gives average salaries for groups or departments, pay levels and job types. It allows meaningful comparisons of employees who work for different groups or locations throughout the organisation. The Average Salary metric makes it easier to analyse comparative salaries across different regions and business units and recommend guidelines on salary changes. Average Salary Metric is also a stepping stone to more sophisticated statistical analyses of salaries, such as their range and standard deviation, which are relevant to all organisations.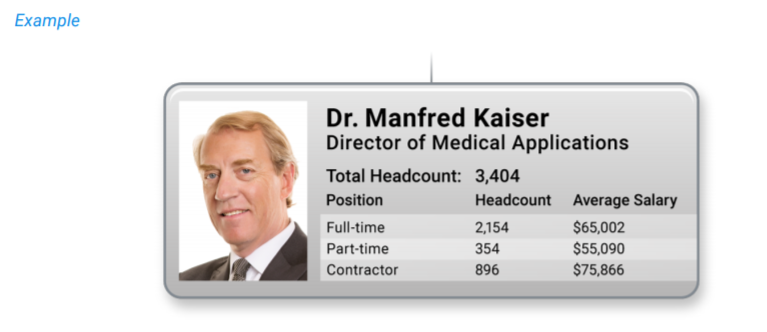 OrgChart Now's clear and visual presentation of the salary data points help provide a snapshot of the current situation and allow for easier, more accurate decision making planning for the future.